This page showcases award-winning children's author Gordon Korman. Scroll on to learn about this incredible author, his works, and awards.
Created by Jana Tenbrook for LI 831XI Fall 2021
Bio
Gordon Korman is a Canadian author of 98 books for children and teens. He plans to get to Book 100 in 2022.
Korman was born October 23, 1963 in Montreal, Canada. He grew up around Toronto and wrote his first book (This Can't Be Happening at Macdonald Hall) for a school project in 7th grade. A few years later he moved to New York to study film and film writing, and he's been writing stories for children and teens ever since.
Korman's books are renowned for their humor, engaging plots, and sympathetic characters. The children in Korman's books are incredibly dynamic; whether they are hiding a secret (like one of the protagonists in his newest book, Linked) or a completely open book (for example, Zoe in Liar Liar Pants on Fire), many readers will relate to them and be quickly hooked into these quirky tales.
Hear what Canadian Prime Minister Justin Trudeau has to say about Gordon Korman:
If You Can Only Choose One Book by Korman, Go With…
The first book in one of Korman's most popular series, Swindle tells the story of an eleven-year-old boy who seeks to break into a known con man's high-tech hideout to retrieve his lost baseball card. Griffin Bing, with an eclectic team of his classmates and a healthy dose of humor, will have to use all their skills to get back what ought to rightfully be his.
The blurb on the book itself claims that this is "Gordon Korman at his crowd-pleasing best, perfect for readers who like to hoot, howl, and heist." This book is a perfect addition to elementary-level libraries and sure to be a hit with reluctant readers and anyone who wants a fast-paced, funny, easy-to-read story. As the first book in a series, it also serves as a launchpad to further reading. There are currently 8 books in this series. The most recent, Jingle, was published in 2016.
Other Key Titles
Middle Grade Novel
Jett, son of a tech billionaire, isn't amused when he is sent to a "wellness camp" in Arkansas called Oasis and forced to give up his phone for the duration. However, throughout the summer he gets to know and even get along with the other kids. Together they uncover a mystery and adopt a baby lizard as a pet, but to figure out what's really going on Jett will have to prove that his attitude is truly changed.
The themes of this book are timely and the mystery intriguing. Middle-grade readers will devour this!
Middle Grade Novel
Capricorn Anderson is a middle schooler raised and homeschooled by his hippie grandmother. When she is suddenly hospitalized, he starts attending a public middle school and learns (and shares) more than he could have imagined.
This book has won numerous local awards (Canadian awards listed here; American awards listed here), but it is worth noting that some members of the homeschool community take issue with the way Cap is written as embodying stereotypes. This could be a useful read-aloud and discussion starter about bullying and respecting different perspectives in elementary and middle school classrooms.
Juvenile Mystery series
The Medusa Plot is the first book in a spin-off series from the popular, multi-author 39 Clues series. Whether they've read the original series or not, readers looking for a mystery spanning the globe will find what they want here. Dan and his sister Amy must respond to a bizarre ransom request in order to save their friends. Their family's identity and worldview will be tested in this high-stakes treasure hunt.
There are six books in this completed series. There are eleven books in the original 39 Clues series and four additional spin-off series.
Recent & Noteworthy Awards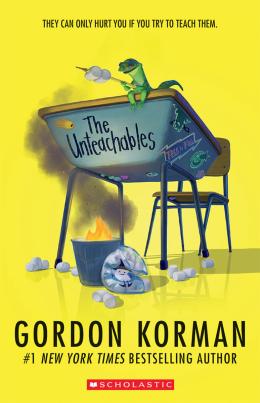 2021 Red Cedar Award (BC Young Readers' Choice): The Unteachables
2019 Short-listed for the Ontario Library Association's Silver Birch Award: Restart
2013 Commended by the Canadian Children's Book Centre as a Best Book for Kids and Teens: Hideout: A Swindle Mystery (Swindle #5)
2012 Short-listed for the Manitoba Young Readers' Choice Award: The Emperor's Code (39 Clues #8)
2010 Snow Willow Award (Saskatchewan Young Readers' Choice): Schooled
Further Titles
Korman, G. (2021). Linked. Scholastic Inc.
Chokecherry, Colorado seems like the epitome of peaceful small town USA – at least until someone starts painting swastikas all over the middle school. In response, the students begin making a paper chain representing the 6 million Jewish lives lost in the Holocaust. As the popular kids and those on the fringe start working side by side, can they figure out who is behind this? And what happens when it raises ghosts from the town's past which many adults would prefer not to address? This book utilizes diverse perspectives to tell the story of a town from the eyes of its next generation. This book is a great tool for initiating conversations about racism and the Holocaust with middle-grade readers as well as an enjoyable story featuring characters young readers will become invested in.
Korman, G. (2019). The unteachables. Balzer + Bray.
A class full of misfits and a teacher who has lost his passion for teaching are thrown together in this middle-grade novel. This book follows a troubled bunch of students and their apathetic teacher through a school year where they discover that they do have a place in the school, and possibly even a shot at redemption. Leans toward an older middle-grade audience.
Korman, G. (2017). Restart. Scholastic Press.
Chase has amnesia after falling off a roof and doesn't remember much of anything about himself. When he goes back to school, his classmates have a variety of reactions, from anger to fear to awe. He strives to learn who he has been and who he wants to be, and learns what it can mean to get a fresh start.
Korman, G. (2015). Masterminds. Balzer + Bray.
Korman delves into dystopian literature with this first book of a trilogy about a group of early teens from a seemingly perfect community. Unbeknownst to them, their crime-free community may be connected to some of the biggest criminal masterminds in the world. As they learn more about the reality of their home and the world around them, they will also discover that they themselves may be more complex than they expect.
Korman, G. (2013). The hypnotists. Scholastic Press.
Twelve-year-old Jax can hypnotize people to do whatever he wants. In classic Korman style, he learns that things are not exactly what they appear to be while taking the reader on a humorous and fast-paced adventure. This is sure to be a hit with middle-grade readers with an interest in light science fiction. It is the first book of a trilogy.
Korman, G. (2012). Hideout: A swindle mystery. Scholastic Press.
In this fifth book in Korman's Swindle series, Griffin and his friends attempt to keep a (very large) former guard dog away from his malevolent former owner by hiding him. As with the other books in this series, this one is filled with humor, mystery, and a team of clever kids trying to do the right thing, in a complicated way.
Korman, G. (2010). The emperor's code. Scholastic Press.
This is book 8 in the 39 Clues series. Here, protagonists Amy and Dan are separated for the first time. As they continue to search the globe for the clues to what they hope is a powerful inheritance, they ultimately must choose between continuing the search or being reunited. This series should be read in order. Any fan of the earlier books in this series will enjoy this fast-paced continuation of the mystery, which is nearing its end.
Additional Resources & Information
Gordon Korman. (2021). Goodreads. https://www.goodreads.com/author/show/2130.Gordon_Korman
Korman, G. (2013). Gordon Korman. https://gordonkorman.com/
Scholastic Canada. (2013). Gordon Korman. https://www.scholastic.ca/gordonkorman/about.htm
Scholastic Inc. (2021). Gordon Korman. https://shop.scholastic.com/parent-ecommerce/search-results.html?search=1&text=Gordon%20Korman
Writers' Confessions. (2021, September 11). Justin Trudeau presents MacDonald Hall by Gordon Korman [Video]. YouTube. https://www.youtube.com/watch?v=8Jqnmex57hM