Today's post is a kind that I rarely write. I'm going to share some thoughts I've been mulling over the past few days and just speaking from my heart. This post isn't about books, but I believe it is more important than more of the posts I write. Grab your cup of coffee (mine is iced, despite the season), settle into your couch, and read this post as you would listen to a good friend because that is how I am writing this post: as if to a friend who asked "What's on your mind?"
If you've spent any time here at Reviews From the Stacks in the past month, you know that I love Christmas. How could I not? From the reverent religious heart to the sparkly superficial baubles, there is so much joy and hope and enjoyment to be had in the season!
I love Christmas, but I love Advent even more, and this shows how flawed and human I am.
At the end of Christmas day, when the gifts have been opened and the food eaten and we've made it back home, what is there to look forward to? In the evening of the most exciting day of the year I tend to find myself rather melancholy. Oh, I know it's silly and selfish, but the feelings are there all the same. I put so much thought and effort into the gifts that I give, and no matter how excited the recipient is, it never feels like enough. I think that is at the heart of my seasonal malaise: it's never enough. No matter how hard we fight against the commercialization of Christmas, our efforts will never be enough.
Thank God Christmas isn't about our efforts.
Advent is a wonderful season of anticipation building up to Christmas, and in the past few years I found myself more excited about that than about Christmas Day. At first, I thought this was a sign of maturity: that instead of opening gifts being at the top of my Christmas wish list, it was the genial feelings of a season where nearly everyone shares a common goal in making Christmas as splendid as possible for those around us. In truth, holding Advent above Christmas is a perversion of the seasons. Just as John prepared the way for Jesus, Advent prepares the way for Christmas, and Christmas points to the cross.
You see, there is still something even more incredible to look forward to after Christmas: Easter. It may not come with glittering snowflakes or cartoon TV specials or vacations, but it is just as important. It might even be more so. Easter is the fulfillment of promises made at Christmas. It's the whole reason that Christmas exists.
This year, when the exuberance faded and fatigue began to seep into my soul, I started thinking about Easter. When Christ was born, the cross lay before Him. Nothing was finished yet. Maybe we need to remember this in 2020 more than ever before: that now, in these days following a Christmas which probably went very differently from what we expected or how we usually celebrate, the meaning of Christmas isn't over. The point of Christmas lasts long after the echoes of cheesy carols finally stop running circles around your head. Christmas points to Easter, and now that we have celebrated Christ's birth, we should walk alongside His march to the cross as much as possible.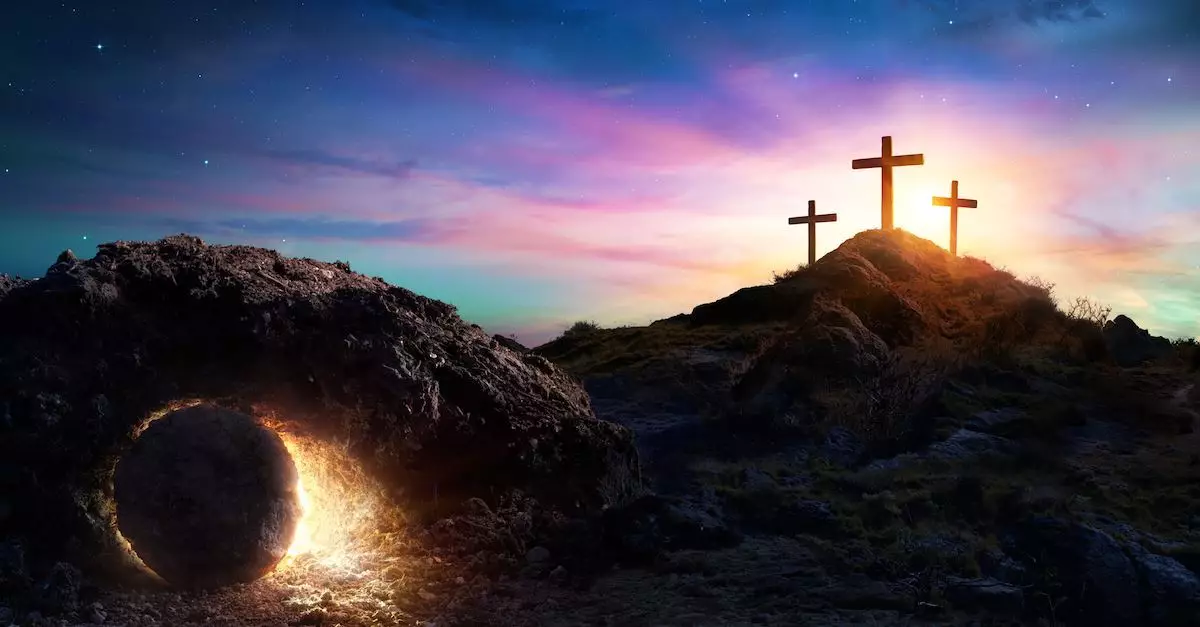 Of course, I love Christmas, and I really love Advent. I love opening each door on the Advent calendar, and scheming about buying, making, and wrapping gifts for my family and friends; I love hearing Christmas songs on the radio and hearing people talk about angels and miracles. I also get a little irritated when people who I know are not Christians (and often are outspoken against Christianity) talk about "celebrating" secularly. But now that Christmas is over, I can't wait for Easter. Deep in my soul, I'm looking forward to celebrating the one thing that answers all the questions in the world. More than the aesthetic or food or even family celebrations, I'm looking forward to hearing and singing about Jesus' death and resurrection, and celebrating what that means for me and the world. You can't fake knowing the meaning of Easter the way an increasing amount of people fake their way through Christmas.
Something about the end of the year seems to bring out a deeper, more sentimental and contemplative side to some people (myself included). I hope you don't mind this break from my usual bookish posting to share what is on my heart.
What's on your mind at the end of this year, Readers? Are there any books you are rushing to finish up? I'm trying to see if I can read Where'd You Go, Bernadette by the end of the year to count toward my location-based reading challenge, which I am still short of completing.
Until the next chapter,
Jana