Short-term reading challenges are a wonderful tool for helping readers stay on track with reading goals, tackle difficult books, and just have fun. With that in mind, I am taking on three reading challenges this summer. Two of these challenges are hosted by other book bloggers I follow, and the third is my local library's annual Summer Reading Program. So, if you're concerned that my math skills have impacted the title of this post, the answer is no. I'm using this post to officially sign up for the two blog-based challenges, and simply mentioning the third because it's relevant.
The challenges I am taking on are:
The Louisa May Alcott Reading Challenge, hosted annually in June at In The Bookcase. For this challenge, I can pick any number of books written by, about, or otherwise involving Louisa May Alcott. I must publicly share this list at the beginning of the month, and then spend June working on it! Sharing updates, reviews, and thoughts along the way is encouraged but not required.
20 Books of Summer, hosted annually from June 1-August 31 at 746 Books. The full challenge is, as the name states, to read 20 books during the summer months. However, there are other levels of this challenge, and I am taking on the 15 book level. Because there is so much change going on in my personal life this summer, I don't want to get in over my head. 15 books breaks down to 5 books per month, which should be doable for me.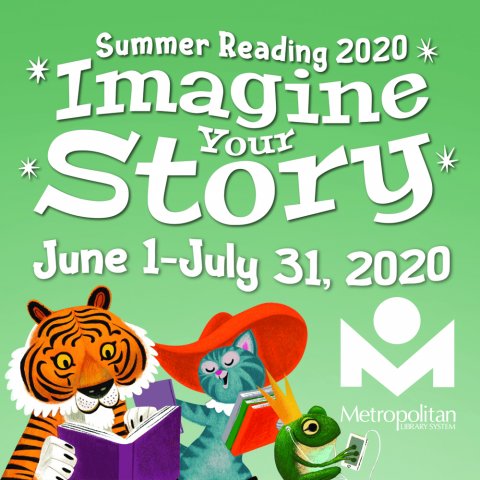 Imagine Your Story, hosted by my local library. If I reach 600 points by July 31 by logging my reading time and participating in various literacy-related activities, I can earn a prize pack including 2 free books or a library-branded tote bag (last year I went for the bag, and it was definitely the right decision! I use the bag all the time to carry around my knitting and current read).
So, what am I planning to read for these challenges?
I'm a little intimidated to set a TBR list that spans three months. Planning out what I am going to read for the entire summer is slightly reminiscent of required school reading, which tended to be a mixed bag. But, there is also some comfort in knowing that I shouldn't have to deal with many lags between books. This list is a beast to write but I am excited for everything that is on it!
We Alcotts

by Aileen Fisher

I had this book on my LMA challenge TBR last year, but I didn't end up getting to it. This year, reading it is my entire goal! I know, it's a tiny goal, but it's all that I want to commit to this year. If I end up with extra time, I might see if my library has The Other Alcott by Elsie Hooper on hand, or a biography.

The Catcher in the Rye

by J.D. Salinger

This has been on my TBR for so long. It looks like a pretty short book, so hopefully I will fly through it and finally be able to say that I have read every Salinger book that my library has to offer (yes, the most famous one is the last that I have to read – I fully realize the irony!).

Immersed in West Africa

by Terry Lister

This comes as an author request, and I am looking forward to reading something set on a continent that I rarely visit in my reading! I hope to learn something and enjoy this travelogue.

Never Say Goodbye

by Sarah Grace Grzy

I'm still waiting on my copy to arrive, even though I pre-ordered and it was published the first week of May. Whenever it arrives, I am ready to read it!

Everblaze by Shannon Messenger (Keeper of the Lost Cities #3)

I just finished book 2, and I'm ready to keep things rolling with book 3!

Neverseen by Shannon Messenger (Keeper of the Lost Cities #4)

It takes me about a month to get through one of these books, so I fully expect to get through three. However, I'm only going to include two in this list; because I am listening to this series on audiobook during my commute to and from work, it's almost too easy to include reading them in any challenge.

The Library War

by Cecily Wolfe

This looks like a very light and clean YA story by an author that I admire.

In the Midst of Winter by Isabel Allende OR End of the Spear by Steve Saint

One of my reading goals outside of these challenges is to read a book set on each continent in 2020. Finding a book set in South America is more difficult than I hoped, and these two are my only ideas at the moment. No one said there couldn't be a little wiggle room in these challenge lists, so when I reach this point, I will see which book it easier to get.

The Ballad of Songbirds and Snakes

by Susanne Collins (The Hunger Games #0)

I reserved a copy as soon as I knew my library was ordering this, and it came in on Monday! I'm hesitantly optimistic about this addition to the series.

The Sky Above Us by Sarah Sundin (Sunrise at Normandy #2)

I haven't kept up with all of Sundin's releases in the past few years. Despite how much I enjoy this author, it just hasn't been a priority. I would like to catch up though, and this might be a fun book to read in July.

The Christmas Remedy

by Cindy Woodsmall

One of the things that quarantine has completely thrown off for me is my goal of occasionally (but consistently) reading Christmas-themed books throughout the year. I like to have a few Christmas-y reviews built up long before the season arrives, but so far I have only read 1 this year! I don't own any Christmas books that I haven't already read, so I rely on the library for these. Often these are quicker reads than most, so hopefully I will pick up a few over the summer.

The Hate U Give

by Angie Thomas

This book has been big for a while now, and while I recognize the importance of the subject matter, the story does not sound enjoyable. Given the current social climate and everything that is going on at the moment, however, I think it's time I listen to some of the commentary regardless of how uncomfortable it might be.

Learning to See

by Elise Hooper

I stumbled upon this novel about Dorothea Lange while looking at The Other Alcott. It looks interesting!

Rocket Men

by Robert Kurson OR Hidden Figures by Margot Lee Shetterly

The recent space launch has woken up my inner space nerd. I love learning about all things space, but I don't tend to have a great amount of retention with what I learn about this, which just means it's new again each time! I would love to read a nonfiction book about spaceflight this summer. These two are basically placeholders for anything of this kind.

Genreflecting: A Guide to Popular Reading Interests

by Cynthia Orr

Since I start library school in the fall, I'm going to read this as a sort of preparation. Not that I really think it will entirely prepare me, but a former manager told me it would be helpful.
This list was challenging to write. 15 books sounds like a lot, but there are so many that I want to read soon that narrowing it down to only 15 is a struggle! Who knows, maybe I will blow this out of the water and end up reading the full 20 or more books this summer. Regardless of the number of books read, this summer still promises to be a blast, and I am definitely looking forward to these books and more!
Are you taking part in any short-term reading challenges? Share a link to your list in the comments! Have you read any of the books on my list? I would love to hear (without spoilers!) your thoughts.
Until the next chapter,
Jana